Why would you like to get a Pitufino?
What autopilots does Pitufino support?
Pitufino's data routing and filtering
Pitufino's browser-run instruments
Pitufino's browser-run configuration

Over the years we acquired a mix of old and new navigation instruments on Pitufa, which used to communicate via NMEA convertors that lack configuration options–never quite the solution we really wanted. Unsatisfied with the situation and unconvinced by existing products, I decided to build an NMEA converter and gateway myself. Later on I started implementing more and more ideas and now my Pitufino replaces four devices we had to run before.
Along the way the project turned from a sheer experiment into a powerful product that may well be interesting for other sailors. If you're interested in acquiring a Pitufino visit our online shop. If you have further questions, send me an email to

or use the contact form below!
What is a Pitufino?
Apart from being a Wi-Fi gateway for navigation data, Pitufino is an NMEA router, multiplexer, translator and converter. It has been designed to let navigation devices from different generations, old and new, talk to each other and, of course, to your portable devices such as smart phones, tablet and laptop computers. Pitufino's versatile configuration options allow even devices that are not quite in full compliance with the standards or that use deprecated or proprietary messages to become connected.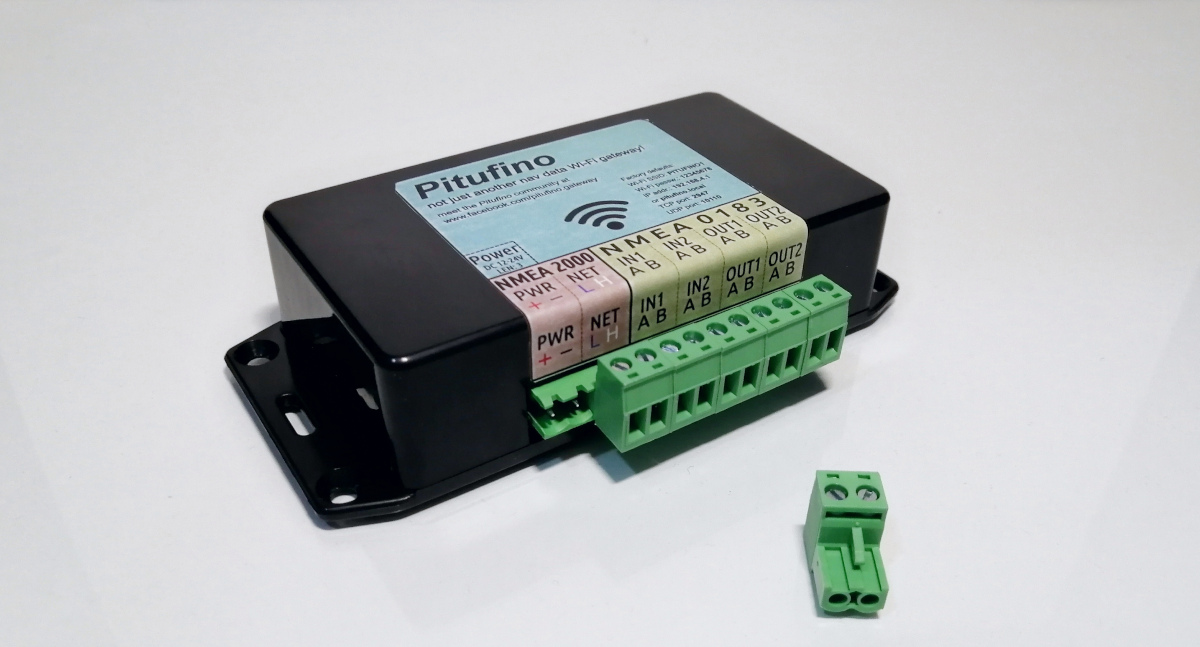 What is a nav-data Wi-Fi gateway?
Such a gateway takes the data from its connected nav devices and sends it over Wi-Fi to your laptop and mobile devices. Turn your phone or tablett computer into a powerful navigation display!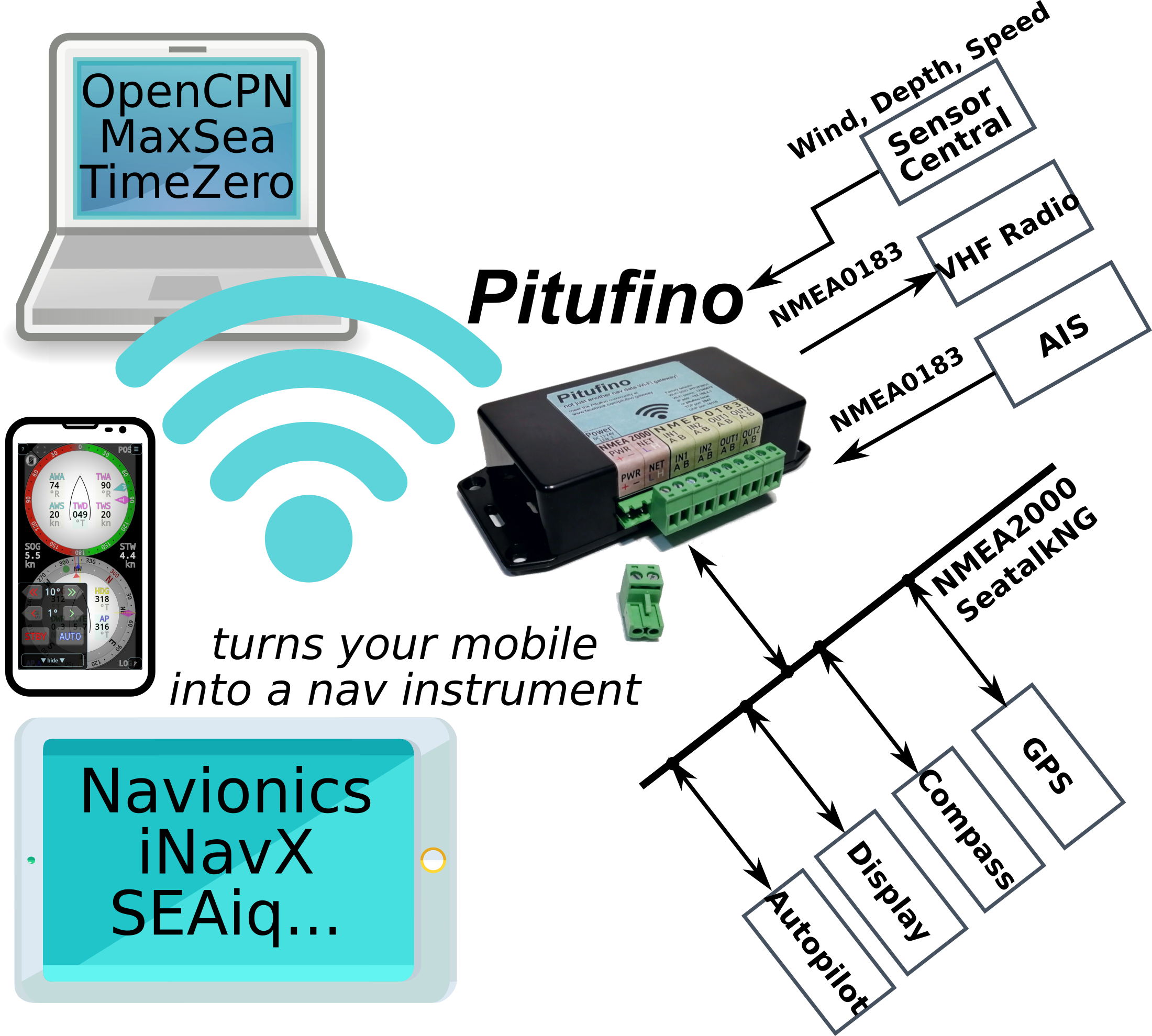 Why would you like to get a Pitufino?
+ Because you are searching for a nav data Wi-Fi gateway to feed your GPS position, AIS and instrument data to navigation and chart-plotter apps on your mobile devices,
+ because you like Pitufino's web browser-run sailing instruments (no app required) that include a remote control for your autopilot,
+ because you have NMEA0183 as well as NMEA2000 devices aboard and require one or more converters to make them talk to each other,
+ because some of your nav devices don't properly communicate with each other (or with your apps),
+ because you are not happy with your current gateway or your current converter that lacks configuration and filter options,
+ because on some occasions you wish to only run a subset of your navigational instruments without powering up the whole (energy-greedy) system.
What are Pitufino's features?
• NMEA2000 port
• 2 NMEA0183 inputs (isolated)
• 2 NMEA0183 outputs
• Wi-Fi: provides own access point (with DHCP) or connects to existing Wi-Fi network
• mDNS: gateway can always be found as pitufino.local
• NMEA0183 data server: multiple TCP connections and/or UDP broadcast
• Web server (for local intranet): provides browser-based configuration, firmware update, pages to view
navigation data in real time (web instruments and web pilot controller, engine gauges, …)
• Configuration: elaborate settings for filtering, routing and conversion
• Built-in World Magnetic Model: up-to-date magnetic variation (and also, your chart plotter no longer needs to be online every time)
• Sentence Translator: Some devices output deprecated or unusual sentences. Pitufino translates them into well-supported ones.
Which autopilots does Pitufino support?
The current firmware supports Raymarine's SeatalkNG/NMEA2000 pilots like EV-1/EV-2/SPx30 as well as NMEA2000 pilots from Navico/Simrad/B&G like NAC-3/NAC-2.
We are working on support for others.
Pitufino's data routing and filtering is shown in this image: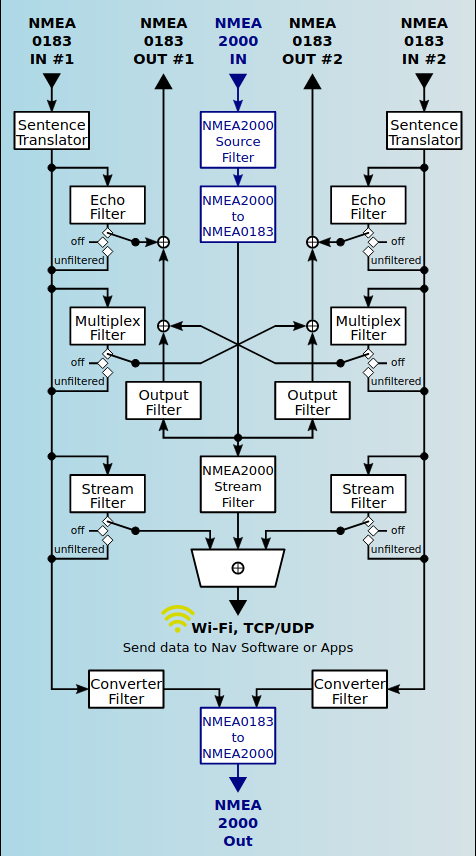 Pitufino's data routing is bidirectional. Data received from navigation software or apps (e.g. waypoints) is routed like this: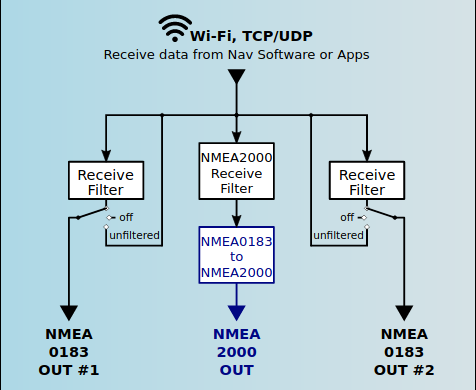 Screenshot of my laptop: Pitufino feeds GPS, AIS and other instrument data to OpenCPN and to Pitufino's sailing instruments (running in a browser):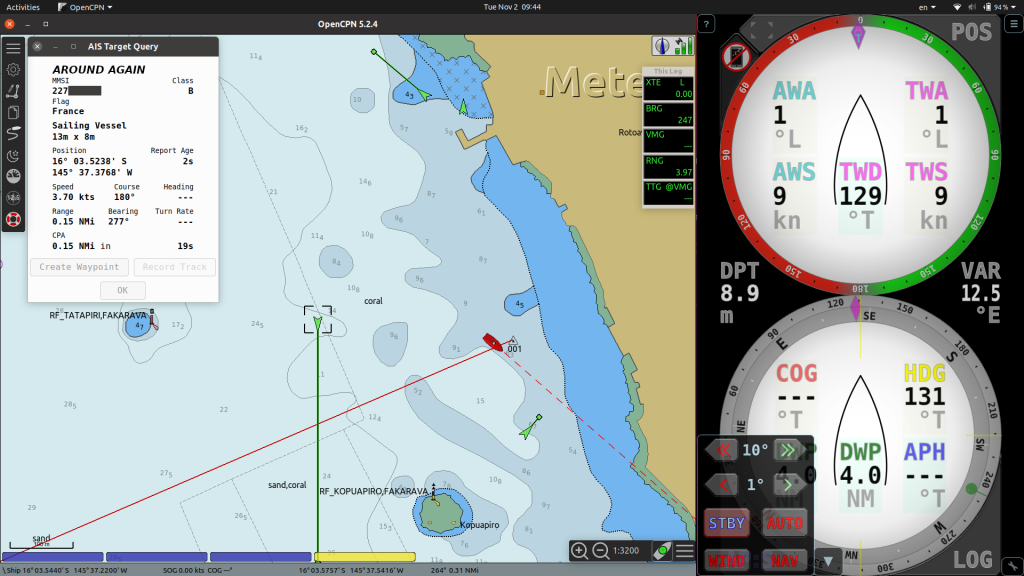 That's what Pitufino's sailing instruments look like on a smart phone. No need to install an app! It's all part of Pitufino's integrated web server.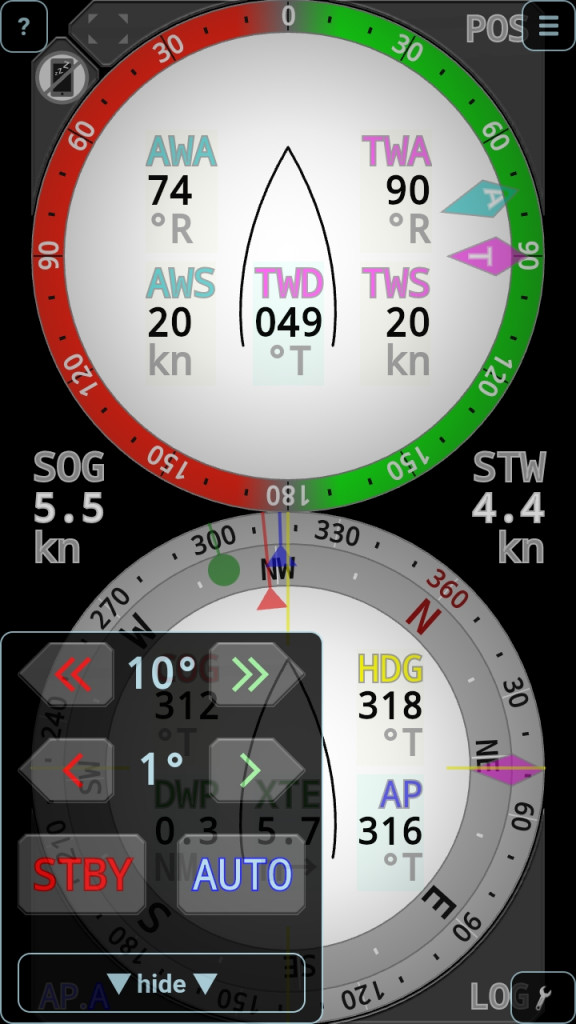 Pitufino's new multi display, here with engine dashboard and tank displays: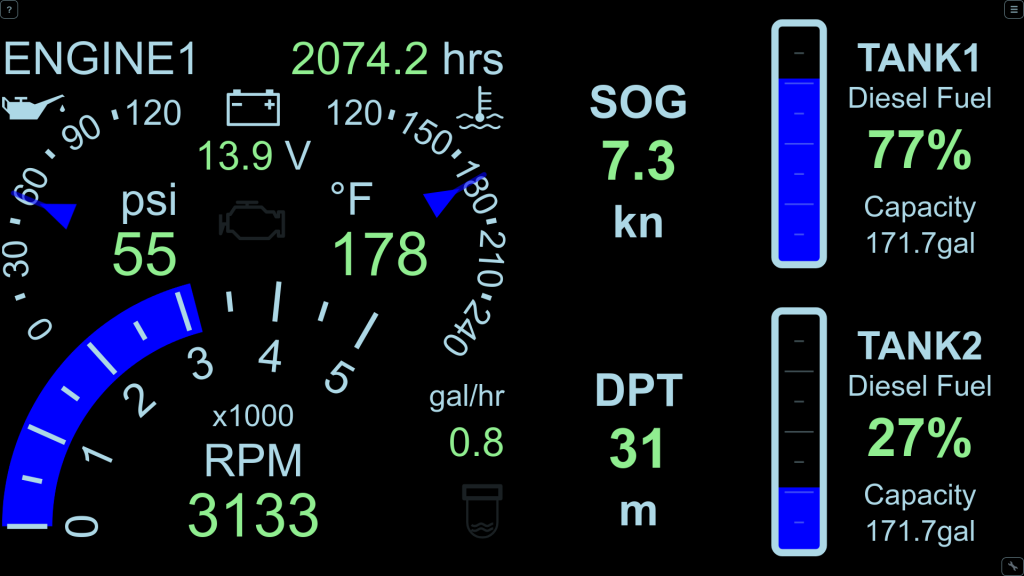 And this is Pitufino's anchor-watch instrument view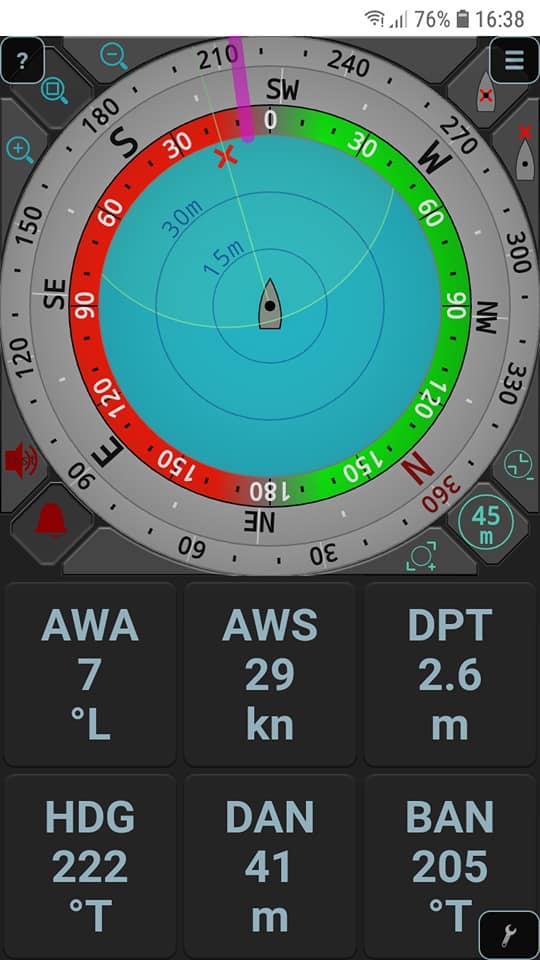 This use-case shows our cumbersome pre-existing solution that needed 4 additional devices and below, the new set-up using a Pitufino: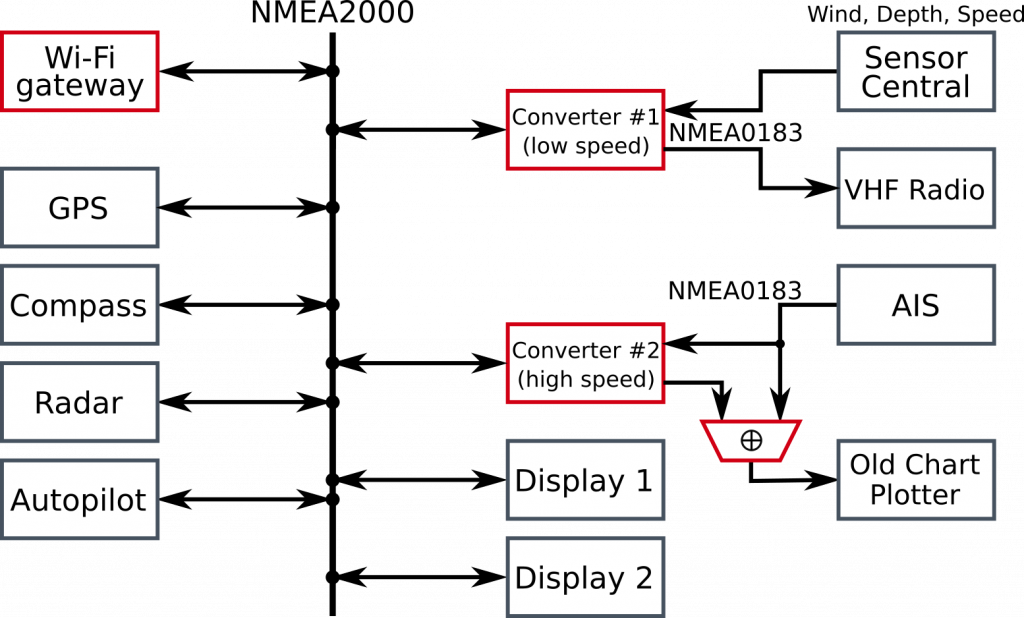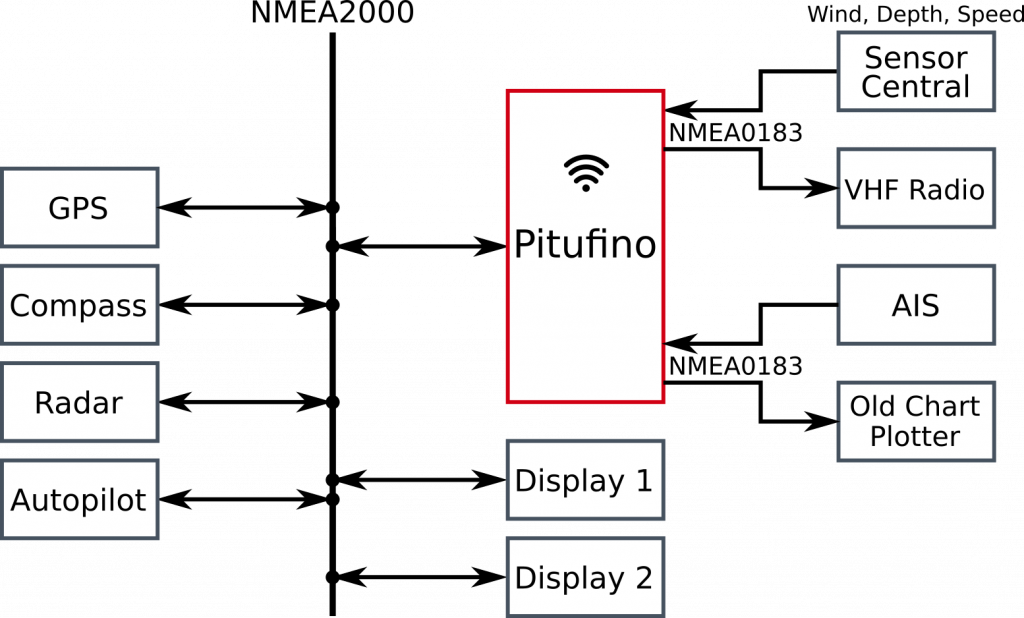 Pitufino's settings for NMEA0183: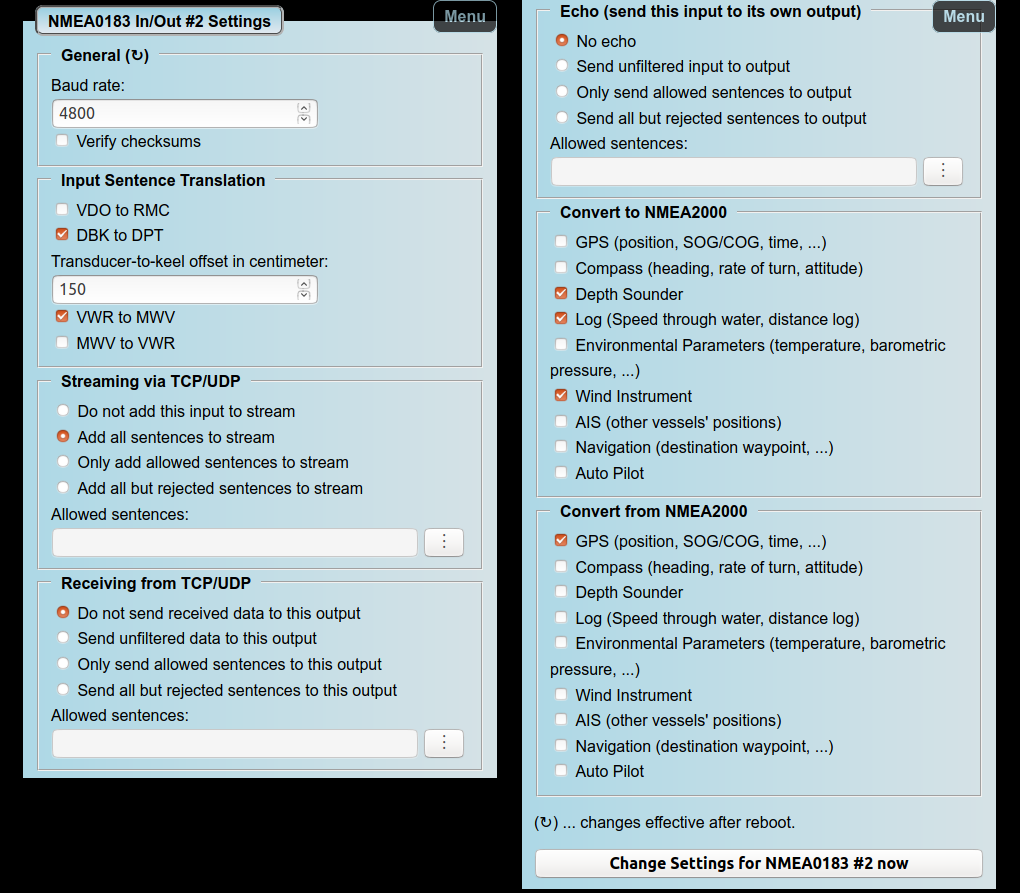 An example showing an NMEA2000 device list and source-filter options: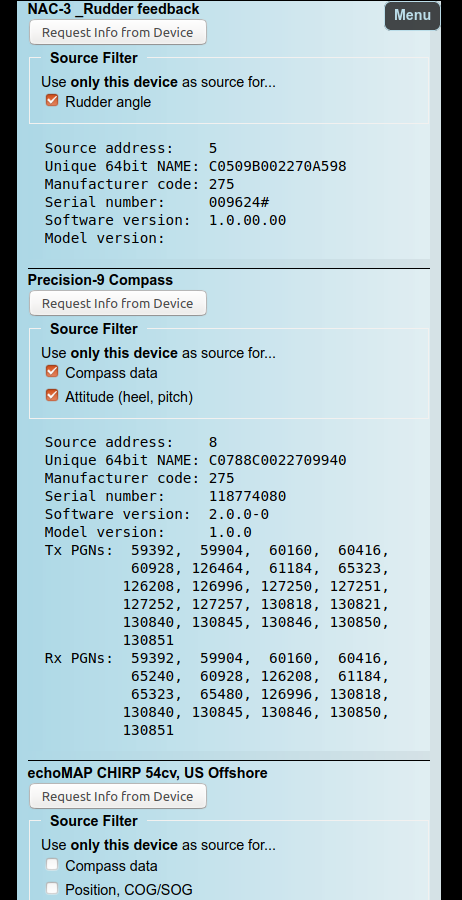 Planned features for upcoming firmware versions
Pitufino is under active development to include new features and to extend its range of application even wider. On my to-do list are
(+) more web instruments, AIS-viewer, logbook assistant, etc.,
(+) provide wind and other data with proper damping on NMEA2000 for other displays
(+) support for more proprietary and deprecated sentences,
(+) support for more autopilots
(+) and more sentence translations. Just tell me what nav devices you have and I will figure out a way to make them talk to each other!
Latest Firmware: V1.4.1
Download the latest version here.
Changes since V1.4.0:
* fix for V1.4.0′s problem connecting to existing Wi-Fi network
* provide damped apparent and true wind data to N2k network and NMEA0183 TCP/UDP streams
Changes since V1.3.9:
* NMEA0183 streams to unicast UDP connections (client must send first packet), using ICMP to close
* fix for problems (sporadic RX) with UDP broadcast in access-point mode: alternative using unicast probes (& ICMP to close)
* single-connection TCP server for NMEA2000 stream in Actisense NGT-1 format (N2k feed to TimeZero, Configuring Actisense Devices. Needs TCP-to-virtualCOM driver)
* new HTTP server: multiple persistent connections, consistent compression, image caching and other performance-boosting changes
* changed debug server from TCP to UDP
* Sailing instruments got night colors and scale proportionally on different screen sizes now
* Multi display got new display types: pilot controller, compass, wind instrument, position. Fullscreen and no-sleep button in Preferences menu.
* Pitufino provides VMC (WP closing velocity) when not sent by chartplotter
* several minor improvements
Changes since V1.3.8:
* full support for Raymarine SeatalkNG Smartpilots (e.g. SPx30)
* support for N2k engine sensors
* multi display got engine gauges
* settings for access-point channel
* shop demo/simulation mode
* Menu has 2nd multi display
* several minor improvements
Changes since V1.3.7:
* complete AP control for new Raymarine and Navico APs: switching to wind and nav mode + WP confirmation
* proper handling of active waypoint from/to N2k (including name, computing BOD if missing)
* added support for fluid-level sensors (NMEA2000 and 0183), 4 assignable tanks
* added Multi Instrument (preview, work-in-progress)
* several minor improvements
Changes since V1.3.4:
* HTTP authentication for critical requests (see/change settings, reboot, restore factory defaults, control auto pilot, update firmware, …) using encrypted password
* hardware-restore defaults (connect TX0 to RX0 then boot) in case you have locked yourself out…
* single-step firmware upload (future firmware updates will be much easier!)
* fix for DHCP server problems after reboot (DHCP did not notice when clients hang on to their old leases)
* NMEA0183 baud rate and checksum can be changed on the fly
* added to sailing instruments: XTE, POS, fullscreen button
* improved GUI interaction (more feedback…)
* web app manifests: new launchers (i.e. bookmarks) created on the home screen on mobile devices will start Pitufino's pages as proper web apps (no browser gui, separate windows)
Changes since V1.3.2:
* support for aft depth (or 2nd depth sounder)
* new N2k source-filter option for allowing fall-back devices if selected one is offline
* added to sailing instruments: AFT depth, VMC (Velocity Made on Course), SEA temperature, distance LOG (+ 2 trip counters), no-sleep (prevents mobile from going to sleep)
* NEW anchor-watch instruments
* web pages: new menus
* setting for boat name
* several minor improvements
IMPORTANT when updating from a version prior to V1.3.4
When updating html files, make sure you select ALL files inside the html folder. To do so, in the file selector window change the option from supported file types to "ALL FILES".
To receive notifications about new features and firmware versions, Follow Pitufino on facebook.

User and Installation Manual
The manual can be downloaded as a pdf file.