We set out from Croatia in 2011 and have been cruising all-year-round ever since. We rushed through the Med and stayed a month in the Cape Verde Islands, before crossing the Atlantic in January 2012. We enjoyed a visit to Suriname and then spent the rest of the year island-hopping through the Southern Caribbean. After the Panama Canal we sailed to Galapagos and from there to the Gambier Islands in the southeast of French Polynesia. We fell in love with the 5 archipelagos of French Poly and spent the next 9 years cruising this big, diverse area with some visits to the Cook Islands and Tonga in between. In May 2022 we finally said "nana" (good-bye in reo Tahiti) to our home away from home and continued our journey westwards. We are still happy cruisers and still sailing towards the horizon!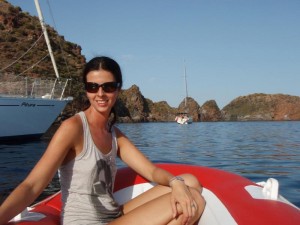 Birgit Hackl (born in 1978 in Linz, Austria) took her first steps on her parent's small motorboat in the summer of '79. During her childhood she always spent her summer holidays on boats, first on Lago di Garda and later on the Adriatic sea. Her love for the sea, for boats and the freedom they bring, originates from that time. She studied English, Spanish, History and German as a foreign language and worked as a teacher for a while. Now she's a writer and freelance journalist. She loves nature and often works on little projects with local communities for sustainability and against pollution.

Christian Feldbauer (born in 1976 in Grieskirchen, Austria) had a predominately dry, or at least boat-free childhood. As a teenager he was already interested in technical stuff and accordingly chose an education and career as an engineer. Thus he acquired technical knowledge and skills that would later on prove to be very useful while repairing and upgrading a cruising boat. During the past couple of years he has returned to his original passion: programming! Now he spends every free minute developing and improving his Pitufino nav data gateway.
In 1995 we got to know and love each other, moved to Graz (in the south of Austria) to study and discovered many leisure activities and interests together: motorbikes, diving and getting to know foreign (and preferably "exotic") cultures as backpackers.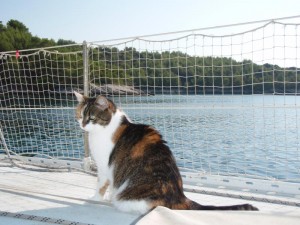 In 2000 Leeloo the cat joined the family, accompanied us to Sweden in 2006 and later on to England, and spontaneously turned into a ship's cat when a new centre of interest started to dominate our lives in 2008: sailing. Even though she enjoyed spending time in the garden catching mice, she adjusted easily to living on a boat, as the most important thing for her was having us around 24 hours a day. Sadly she died in 2021 after a long, happy and eventful life. We still miss our little admiral…
So how did we end up quitting our landlubber lives and starting an alternative lifestyle under sails?
Sitting on a beach in Hawaii, gazing out towards the horizon it occurred to us that there were myriads of exotic islands out there on the ocean, only waiting to be discovered. Especially sparsely populated, exotic islands without other tourists were of particular interest to us. On the other hand these islands tend to have the disadvantage of being rather inaccessible (hence the desired lack of tourists), but a solution for this problem was found quickly: a sailboat.
After the return to rainy England, the idea slowly turned into an obsession. We had never sailed before (apart from Christian's one week sailing course on a lake in the Austrian Alps while still at high school), but soon the shelves of our flat started filling up with literature on sailing and only two years later we found the ideal blue water yacht: our Pitufa. We bought her and then set out to sail her from Mallorca, Spain, to her new harbour in Pula, Croatia – it was our very first sailing trip, just the two of us and (of course) Leeloo.
During these three weeks we started converting our theoretical knowledge into practical seamanship. We had underestimated the distances and overestimated the reliability of the (fickle) Mediterranean winds, so there was little time for rest. We experienced the daily routine on a cruising yacht, went through a storm, faced tiring night watches and some technical problems.
But when we arrived after three weeks, the decision had been made: we would leave secure little Austria and sail towards the horizon aboard Pitufa.
Christian studied electrical engineering at Graz University of Technology (TUG) and worked as an assistant professor at the Signal Processing and Speech Communication Lab at TUG after his PhD . The end of the contract with the university in February 2011 seemed like the right time to start a new chapter of life.
Birgit worked as a language trainer for adults with various institutions after studying Spanish, History, English and German as a foreign language at Karl-Franzens University Graz. This highly flexible job would prove useful to fill up the cruising kitty, and the language skills help dealing with bureaucratic port authorities as well as making local friends.