Yesterday we hiked to the next bigger town Capurgana. It was an incredible experience walking through the rainforest, with large butterflies fluttering around us and colourful flowers everywhere. The region here is within the "Darién gap", a nearly impenetrable jungle in Panama and Colombia that reaches from the Caribbean all the way to the Pacific, without roads and very few inhabitants. The colonialists were fended off by Malaria and other diseases, later on it was infamous for Colombian guerrilla and drug dealers and nowadays forest protection movements create a break in the Pan-American Highway, which otherwise forms a complete road from Alaska to Patagonia.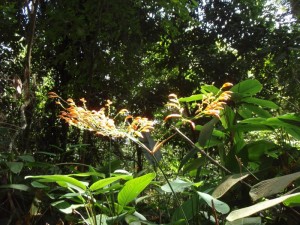 The well maintained, but slightly muddy path took us steeply up a ridge, we could first hear monkeys shouting from far and the further we walked the louder they got, but unfortunately we couldn't get a glimpse of them in the dense foliage. When we reached the highest point we were drenched in sweat, but rewarded with a view of the Sapzurro bay with Pitufa peacefully at anchor.
After 2 hours we reached Capurgana, a town with a few minimarkets and many bars and restaurants for the backpackers, who hike along and the coast, take "lanchas" (open boats) from bay to bay, or sign up as passengers on sailing boats going back and forth between Panama and Cartagena. Instead of walking back over the mountain we also took a lancha, that only took 10 minutes back to Sapzurro.