When we set out from Europe 5 years ago we were slightly worried how our cat, Leeloo, would cope with long passages, whether we'd have problems when clearing into countries with her, if we'd be able to find cat food in remote places, etc.
Despite the fact that Leeloo was already 11 years old when we moved to the boat she adapted quite quickly to our new life-style. Having a ship's cat makes cruising a bit more complicated as leaving the boat to travel inland or fly home is impossible (unless you find a cat-sitter), but the company of a furry crew member compensates for these inconviences. Most countries don't make a fuss as long as the pet stays on board, only some few destinations have such complicated regulations that we rather leave them off our itinerary (New Zealand, Australia, etc.).
Here's a summary of our experiences with our ship's cat:
Safety
Recently we've read a few articles online that recommend drastic measures like throwing your cats into the sea on a regular basis to train them how to climb back up or even giving them swimming lessons with a life-vest on. These activities might be fun for a hyper-active young tomcat, but they certainly should not be given as general recommendations for all ship's cats. A sensitive cat may easily be traumatised, lose all trust in her family when they throw her into the water and become scared of being on deck in general. Cats tend to kidney problems anyway and swallowing large amounts of seawater when being ducked (or when cleaning themselves afterwards) is certainly not healthy. In many atolls in the South Pacific reef sharks circle the boat regularly, so a swimming little furball may even end up as shark bait.
We put netting all around the boat before we even brought the cat on board to keep her from slipping and sliding over the toe-rail, showed her the nasty, wet water all around the boat and Leeloo hasn't fallen or jumped into the water a single time in 5 years. Cats can instinctively swim in emergency situations so it's not necessary to teach them the breaststroke or swim the crawl. If you don't have a swimming ladder or your pet isn't good at climbing ladders it certainly makes sense to have a thick rope hanging down to the surface as an emergency exit. Letting the cat climb up from the dinghy should suffice as training.
We bought a harness and a lead for Leeloo before we set out, but fortunately she is cautious enough not to venture out on deck during passages, so we've never had to lock her downstairs or stuff her into a harness with a lead. We tried taking her ashore on a lead a few times, but these excursions were too stressful for her and she insisted on heading back to Pitufa by jumping back into the dinghy and howling out loud. More adventurous cats might enjoy strolls on the beach so it makes sense to bring a harness with a lead.
We always pack a grab-bag before we go on passage and we put a drybag next to it into which we could stuff the cat in the worst case scenario of leaving the sinking boat.
A cat-friendly boat
You don't have to spend much money to make your boat feline-friendly, a few simple things make life more comfortable and pleasant for a cat.
- We put a catflap into the companionway, so Leeloo can go outside when we're ashore and doesn't have to stay inside the stuffy, hot interior.
- Cats love to curl up in a secure place (especially when the boat is rolling or pitching on passage or in an open anchorage) so we have several cardboard boxes around the boat that serve as sea berths for Leeloo.
- Under the sprayhood we have a pot with grass to help Leeloo's digestion. In the beginning we bought special cat grass, but Leeloo didn't like the coarse texture, it regularly died after a few weeks and had to be resown. In the end we simply cut a patch of ordinary grass out of a lawn in the Marquesas that still thrives after three years on the boat.
- Leeloo loves to stretch and scratch, so we have two wooden boards on deck where she can work out. Thanks to these boards she leaves the furniture in peace and we don't have to clip her claws–she rasps them down herself on the wood.
- Pitufa has a steep ladder down the companion-way with 7 steps. Climbing up is easy, but on the way down Leeloo jumps the last few steps so we put a soft rug underneath to go easy on her elderly intervertebral discs.
Health
Cruising around Europe there are vets in every town, even in South and Central America we still found a vet whenever we needed one (Leeloo got vaccinations in Suriname and Panama), but once in the South Pacific vets are rare. There are many vets and animal clinics in Tahiti, and a few in Raiatea and Huahine, but none in the Gambier, Marquesas or Tuamotus. Tonga has occasional visits from New Zealand based vets and there should be one in Fiji (we haven't been there yet). It therefore makes sense to bring antibiotics, painkillers, etc. on the boat and it's important to have the contact details of a vet you know and trust so that you can ask about possible medication and dosages for symptoms you describe. Many meds for humans work for cats (e.g. our cat gets Stugeron against seasickness and Metoclopramide when her stomach is upset), but you should never use these meds without consulting an expert first, because some of them are harmful or lethal for pets.
Food
Some minimarkets even in remote areas have one brand of usually cheap catfood, but if your cat is as fussy as ours it makes sense to stock up on high quality food whenever you find it. Our cat loves fish, so when we're lucky enough to catch a tuna, mahi-mahi, etc. she's on a fish diet for a few days.
Bureaucracy
As long as we were in EU waters the cat wasn't an issue, but as soon as we got to South America, the Caribbean and Central America we started declaring her on entry forms, always mentioned that she would stay on board and never had any problems with the officials (Suriname, Tobago, Grenada, Bonaire, Curacao, Colombia, Panama). In 2012 officials on the Galapagos islands (Isabela) made no fuss (that might have changed with the stricter regulations now) and French Polynesia is very relaxed about rules in general. After 6 months of quarantine (time at sea counts), importing a pet is just a formality that involves some fees and paperwork, if the cat remains on board no paperwork is necessary. In the Cook Islands (officials come on board) we were simply told to keep the cat on the boat just like on Niue (you meet the officials on land, no checks on the boat). We read the same about Tonga, but when we cleared in in Nuku Alofa the quarantine lady made a fuss about the cat, threatened
that we would have to keep her in a cage under deck with a vet checking her every few days (they don't even have a vet there…), but in the end she calmed down and we simply kept the cat on the boat without further ado.

Sailing with our Cat
Leeloo has been cruising with us right from the start. Here are some snapshots we took over the past 5 years.
(30 photos)
Our Articles about Cruising with Cats published in Magazines: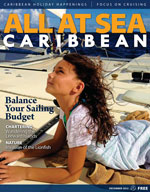 Birgit Hackl: Cruising with Cats, All At Sea Caribbean, December 2013, p. 42–44. Free download from allatsea.net.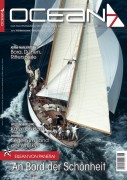 Birgit Hackl, Christian Feldbauer: Mit Leeloo um die Welt, OCEAN7 06 (November/Dezember) 2012, p. 62–64. download PDF (in German only)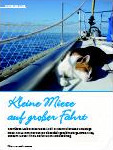 Birgit Hackl: Kleine Mieze auf großer Fahrt, Geliebte Katze 02 (Februar) 2016, p. 74–77.