Tahiti used to be a very convenient stop-over for us: once a year we went there to do a gigantic provisioning tour, stock up on spare-parts for the boat and all other things that aren't available out on the islands. There were several options to anchor, but over the last few years sailboats have been shied out first of Arue and now the big anchorage off Marina Taina will supposedly be shut down in March, because influential investors want to build a hotel there. As the marinas are full during the high season, we are supposed to anchor down in Taravao (several hours by bus away from Papeete) without access to chandleries.
Sailboats are the target of a political propaganda campaign, blaming us for pollution, lack of fish, accidents in the lagoon, etc. The main argument is that sailboats use all facilities without paying anything. Of course that may be true for some live-aboards in the Societies, but most boats just stop for a few weeks (like we do), spend lots of money on shopping and it's not exactly our fault that we're not asked to pay a fee for rubbish and other communal facilities.
The atmosphere on the more remote islands is still as friendly as always, but for now we hope that there will be an option to anchor when we get back to Tahiti for our next shopping tour… We'll keep you posted.
Read our article on this issue in the Blue Water Sailing magazine: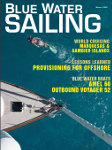 Birgit Hackl: Cruisers are no longer welcome in Tahiti, Blue Water Sailing, Winter 2020, p. 19–21. Read the current issue online.